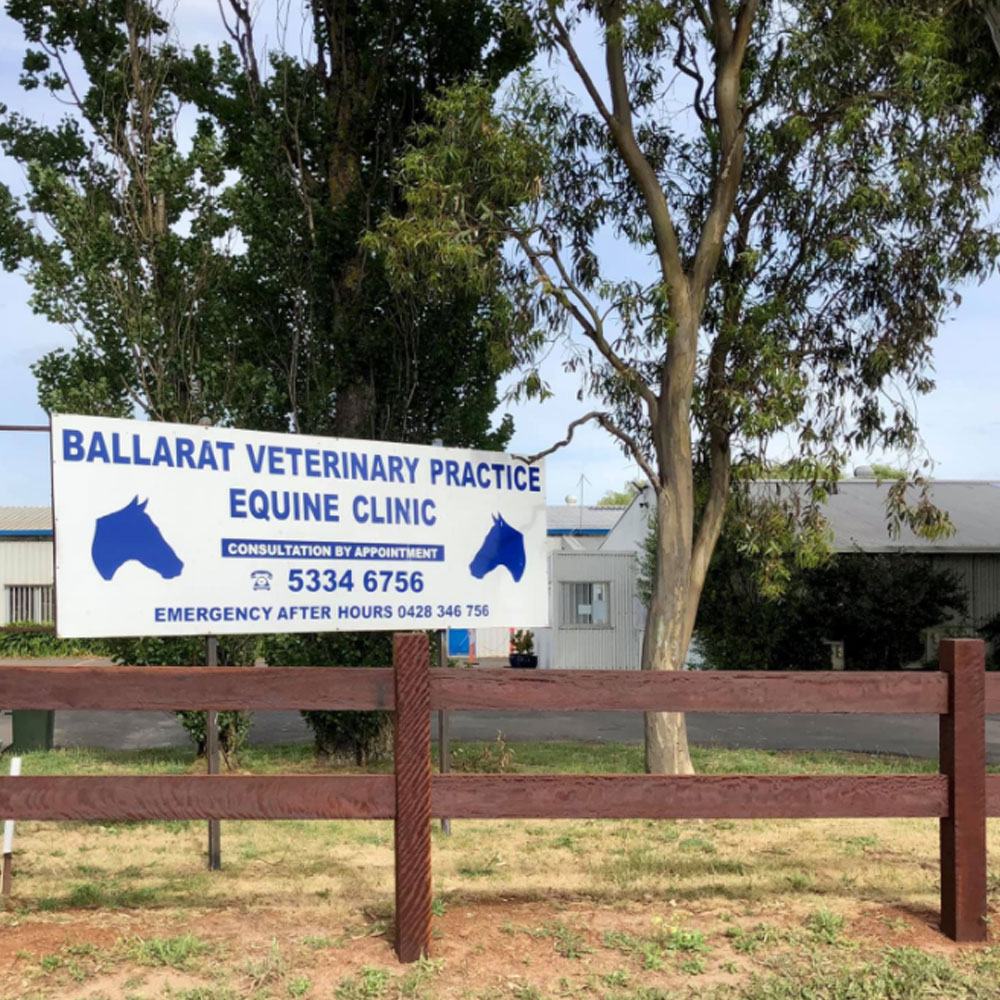 For all consultations, please call our Reception Team on (03) 5334 6756.
After hours, please call 0428 346 756
The Ballarat Equine Clinic is unique in the range of consultations that we provide.
We are committed to helping you ensure that your horse has access to the very best veterinary care available; be it on farm, at the racetrack or at our Clinic.
In addition to general practice veterinary care, we are renowned for our specialist equine surgical referral service as well as our comprehensive 24/7 surgical and medical emergency service.
Our highly experienced team of general practice veterinarians provide Clinic based consultations and provide the full range of general practice services. Alternatively, arrangements can be made for our ambulatory team to visit your horse at your property during weekdays. (See Ambulatory Practice and Travel Free Area Visits for more details).
Referral Consultations with our specialists and imaging team for more complex cases are also available in consultation with your primary care veterinarian.
For peace of mind, your horse's healthcare is further supported by our dedicated 24/7 equine emergency service. In the event that your horse requires emergency care please call (03) 5334 6756.
Clinic based primary and referral consultations* are conducted at:
The Ballarat Equine Clinic
54 Midas Road
Miners Rest
Victoria
(Google Maps link)
This is also the site of our equine hospital and surgical facility should your horse require admission* for either routine or emergency care.
* Payment is required at the time of treatment.
Clinic Based Consultations
Our highly experienced team of general practice veterinarians provide Clinic based consultations and are able to offer the full range of general practice services. Clinic based consultations have access to the full suite of, diagnostic, imaging and laboratory facilities available at the hospital.
Ambulatory Practice (Mobile Team)
Our ambulatory (mobile) team of veterinarians is responsible for providing on-farm veterinary care. With their fully equipped vehicles they are available to assist you with your horse's preventative healthcare schedule, as well as provide care to sick, injured or lame horses with the convenience of an on-farm visit.
Complex cases requiring further work up, diagnostic procedures or laboratory services are fully supported by our hospital based facilities. Where necessary, our Ambulatory Team can seamlessly admit such cases to the Clinic for further care, treatment and monitoring.
Additionally, our Ambulatory Team are your first point of call in the unfortunate event of an afterhours emergency. For Emergency Care Call (03) 5334 6756.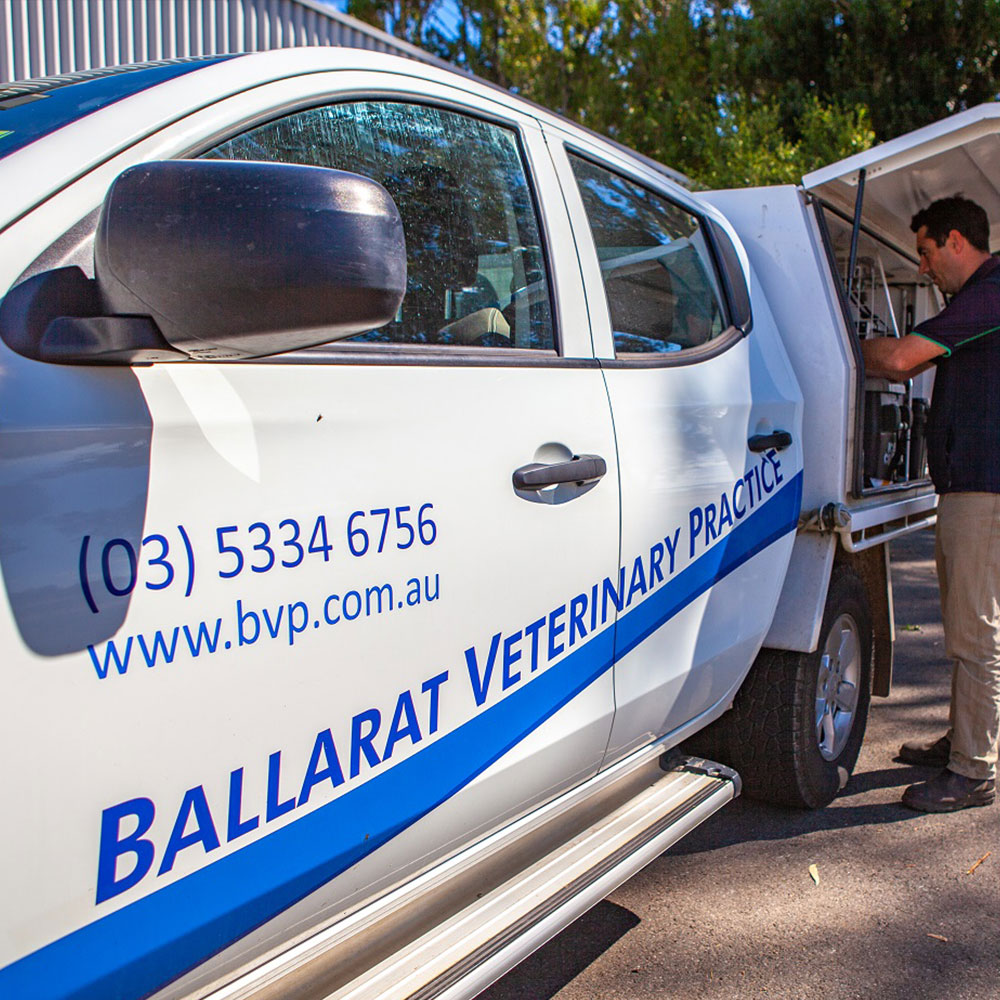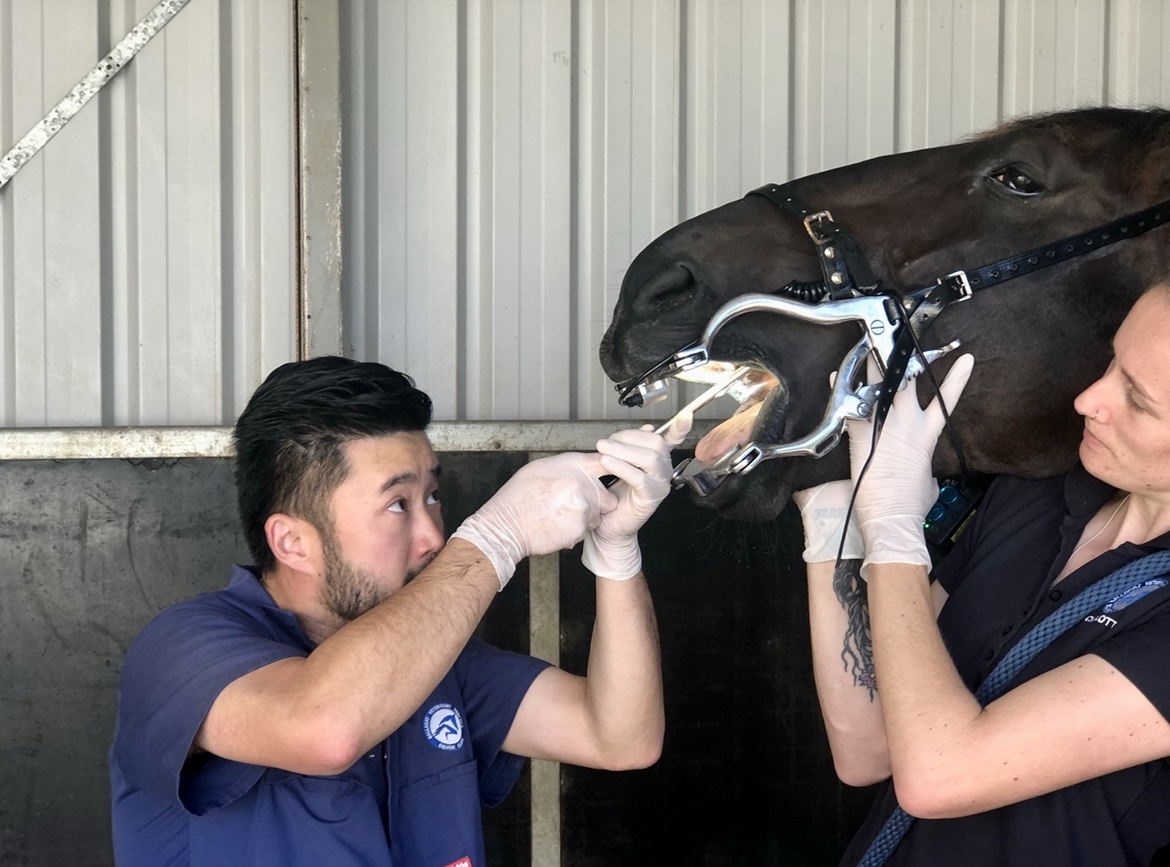 Travel Free Area Visits
In order to efficiently service the large area that makes up Ballarat and the surrounding townships, our ambulatory team of highly experienced general practitioners run Travel Free Area Visits to various locations in the district on a scheduled, monthly basis.
These visits present an ideal opportunity for non-urgent, routine, on-farm healthcare appointments. These appointments do not incur travel fees and allow you to take advantage of our full range of mobile equine veterinary services.
The Ballarat Equine Clinic Travel-Free Area Visits are perfect for dentistry, digital radiography, geriatric check-ups, vaccinations, castrations, microchipping and more.
They are also a great way to take advantage of the BVP Equine Healthcare Packages.
Please note that we encourage owners of horses with wounds, eye conditions and any medical conditions to make an appointment as soon as possible after signs are noted rather than wait for area visits. Call the Clinic on (03) 5334 6756 to book an appointment.
The dates for our Travel-Free Area Visits are confirmed on our social media pages each month but are typically scheduled as follows:
First Tuesday of the Month
Learmonth, Waubra, Lexton, Beaufort, Burrumbeet
Second Tuesday of the Month
Ross Creek, Smythesdale, Linton, Skipton, Carngham, Snake Valley, Buninyong, Scotsburn, Elaine, Meredith, Mt Mercer, Dereel, Napoleons
Third Tuesday of the Month
Ballan, Wallace, Mt Wallace, Mt Egerton, Gordon, Dunnstown, Lal Lal, Yendon
Fourth Tuesday of the Month
Creswick, Smeaton, Clunes, Blampied, Daylesford
Last Thursday of the Month
Horsham
Please contact our friendly reception team on (03) 5334 6756 to confirm dates, discuss costs and to arrange your appointment.
*Please note that payment is required at the time of consultation either by cash, credit card or direct transfer. We also accept payment via VetPay (https://vetpay.com.au)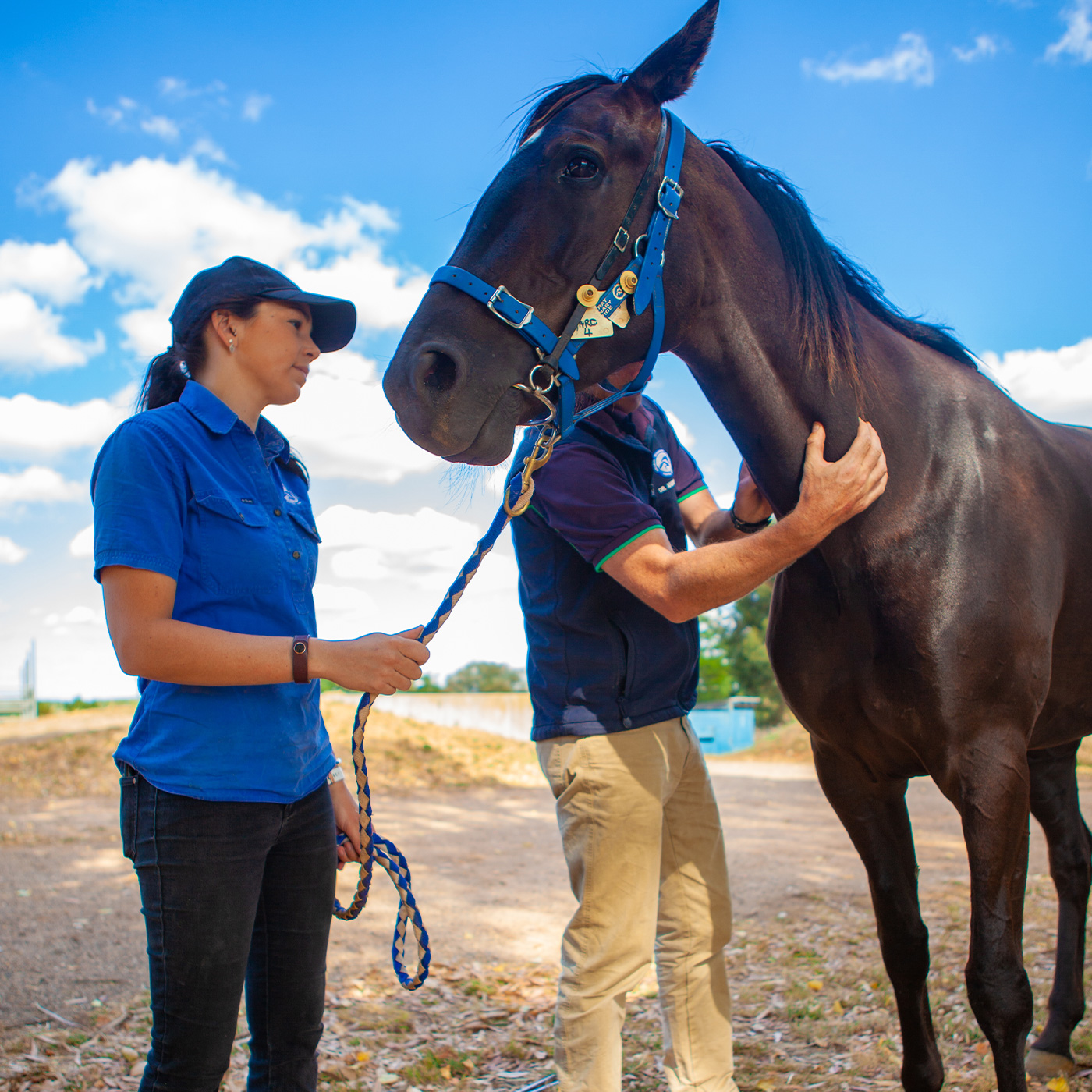 Referral Consults
Our hospital receives referral cases from across Victoria. Our fully equipped imaging centre complete with digital radiography, ultrasonography, endoscopy, scintigraphy (Bone scan) and Magnetic Resonance Imaging (MRI) and team of surgical specialists enable us to help your veterinarian provide the very best healthcare options to your horse.
When it comes to orthopedic issues, our imaging centre allows us to diagnose the cause of complex lameness in cases involving structures not able to be imaged by general practice ultrasonography and digital radiography. Scintigraphy has been the gold standard in the diagnosis of stress fractures and has allowed us to prevent horses with 'clean x-rays' from going on to develop catastrophic injuries. MRI has provided a more sensitive way of determining the cause of lameness where structures of the foot are involved. An accurate diagnosis allows for the development of an appropriate treatment plan and enables an accurate prognosis to be given. With the recent addition of the Lameness Locator to our suite of diagnostic tools, efficient lameness work ups are further supported.
An accurate diagnosis of your horse's orthopaedic or medical issue is often the most cost effective and efficient way to determine the best course of action with respect to your horse's welfare.
Our expertise with respect to conditions of the upper respiratory tract issues has us working with horses of all disciplines from across the State. From roarers to those with epiglottic entrapment, chondritis or pharyngeal collapse our vast experience in this area allows us to provide an accurate diagnosis and determine the most suitable course of action. Our surgical expertise and case load experience allows us to offer the most suitable surgical intervention where indicated.
For all referrals, please arrange for your veterinarian to contact our Team on (03) 5334 6756.
All relevant case notes, test results and imaging can be sent to the Clinic via reception@bvpec.com.au
Emergency Care
In addition to our primary care and referral services we also offer a 24 hour emergency service which provides both medical and surgical critical care.
From colic, colitis and caesareans to open joint wounds, fractures and infections of synovial structures, this service is available to any horse requiring emergency care. Staffed by our highly experienced nursing and veterinary team and supported by our specialist surgeons this service is available 24/7 365 days a year.
In the unfortunate event of an equine emergency please call (03) 5334 6756.