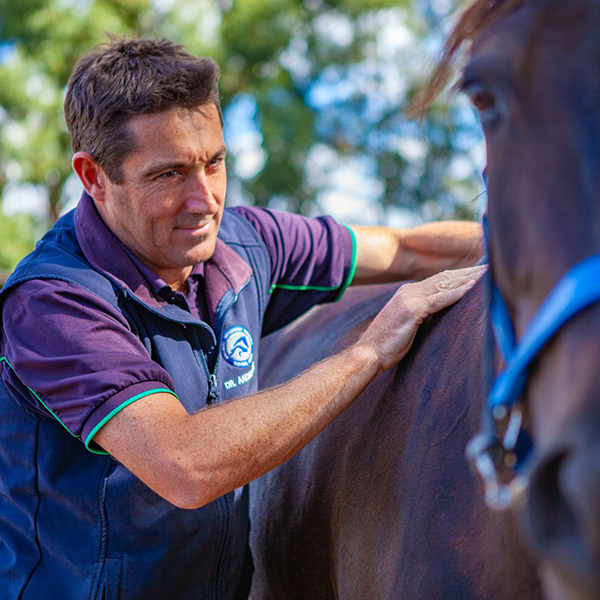 The Ballarat Veterinary Practice Equine Clinic offers a comprehensive equine medical diagnostic and treatment service and also provides the critical post-operative care required by our surgical admissions.
Supported by our Imaging Department, in-house pathology services and dedicated nursing team, our veterinarians have the expertise and experience to diagnose and treat a wide range of equine medical conditions in our hospital.
Additionally, our team are well equipped to provide medical care to our client's horses on an outpatient basis.
Our close links with equine medical specialists from around the world help us ensure that your horse receives the very best medical care.
Common medical issues include respiratory disease, cardiac abnormalities, liver and kidney disorders, neurological, metabolic, hormonal and skin conditions as well as abdominal pathologies such as non-surgical colic and diarrhoea.
Poor Performance
A common complaint in both race and pleasure horses. If an orthopaedic condition has been ruled out, these horses are often presented for a thorough medical investigation. This will generally involve blood testing, careful auscultation (listening with the stethoscope) of the heart, respiratory tract and abdomen, followed by further diagnostic tests as indicated.
Chronic Colic
A common and frustrating complaint – this can include horses which continually display symptoms of low-grade discomfort or those who colic on a frequent basis. We are able to investigate these cases thoroughly, often requiring blood testing, ultrasonography, rectal examination and sampling as required. We are also able to provide ultrasound guided sampling of the peritoneal fluid (fluid within the abdomen) which can be very useful in the investigation of abdominal disorders.
Acute Diarrhoea
"Colitis" is a serious, life-threatening condition characterised by an acutely sick horse, often accompanied by profuse watery diarrhoea.
Prompt life-saving therapy is essential and the clinic is able to provide this in the form of high-volume intravenous fluid therapy, hospitalisation and 24-hour care in a biosecure manner.
Chronic Diarrhoea
Chronic diarrhoea can become extremely serious if not treated correctly. Uncontrollable protein and weight loss are common side effects of diarrhoea. With appropriate diagnostic testing and treatment, the best management plan can be tailored.
Respiratory Disorders
Horses are often presented to the clinic for diagnosis and treatment of respiratory issues such as a chronic cough or nasal discharge or "making noise during exercise."
Investigation of these cases typically involves blood testing, endoscopy and often a 'lung wash' or sampling of fluid within the trachea. Targeted treatment can then be instigated based on the results of such testing.
Chronic Weight Loss
Unexpected weight loss is something that should always be investigated thoroughly. If the diet is adequate and the horse or pony is not competing with others for feed, then a thorough physical examination complete with a dental examination, routine blood tests, and a faecal egg count should be performed. In some cases, abdominal ultrasound and tissue biopsies may be indicated.
Endocrine Studies
Problems with the endocrine system are more common in the general horse population than often assumed and can easily be confused with "normal" observations. For example, obese horses that founder easily may well be suffering from insulin resistance, while older ponies with excessive hair growth and weight loss may be suffering from Cushings Disease. We are able to perform the necessary testing for these disorders and also advise on the most up to date treatment protocols as required.
Infectious Disease Control
Infectious disease control is also an important part of equine practice. Veterinarians are ideally placed to advise clients on the best protocols for preventing conditions such as Equine Herpes Virus, Strangles and Colitis. In the unfortunate event of an outbreak on your property, our veterinarians can ensure that you are armed with the most effective ways to contain any spread. Our veterinarians are also ideally placed to provide information relating to new and emerging diseases and exotic diseases relevant to the equine population.
Respiratory Health
Horses are prone to a range of respiratory tract issues from abnormal noise whilst working, to the presence of a chronic cough or nasal discharge. Investigation of these cases typically involves a thorough physical examination, blood testing, endoscopy and often a "lung wash" or sampling of fluid within the trachea.
Targeted treatment protocols can then be instigated based on the results of such testing. Our specialist surgical team is also available to assist if surgical intervention is required.