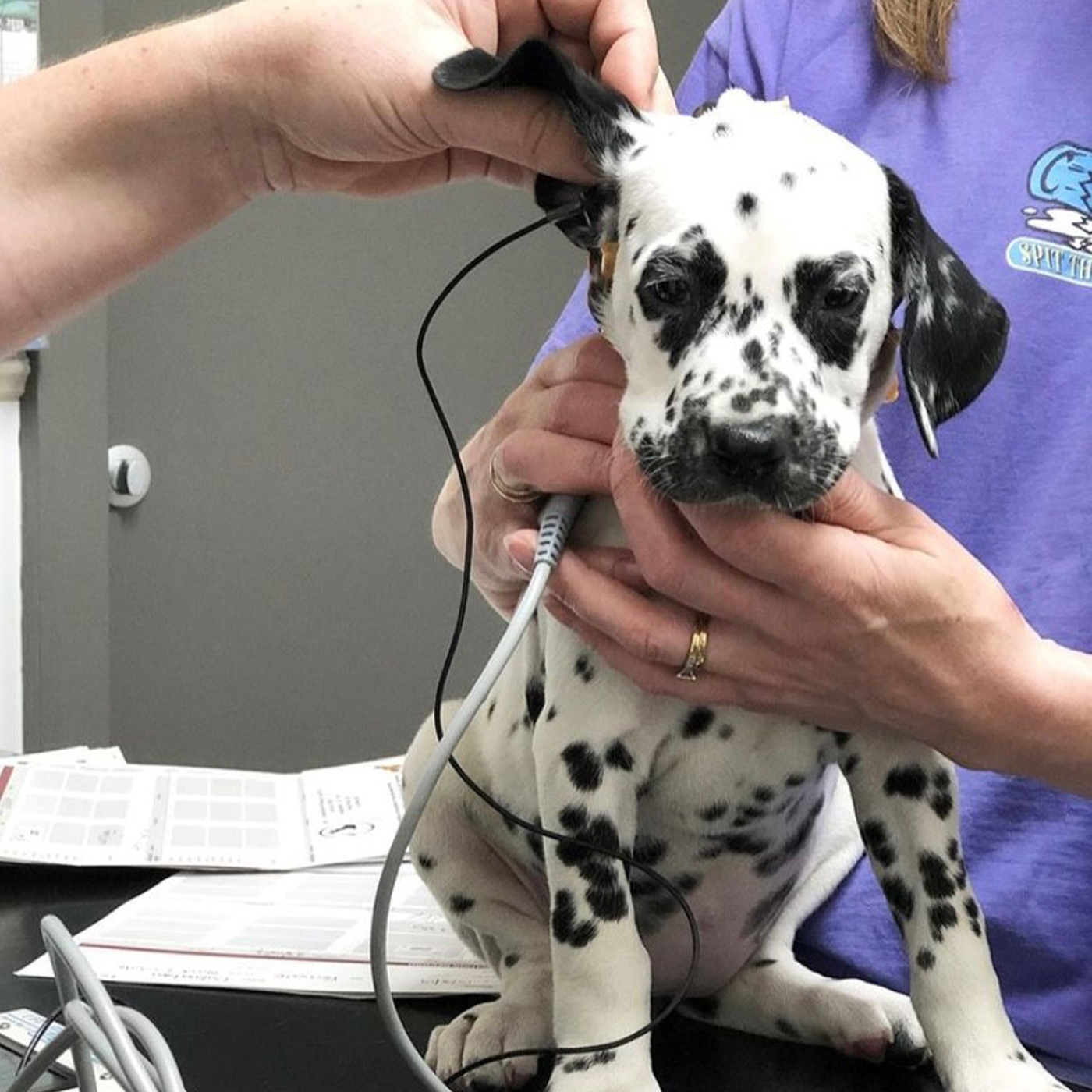 The brainstem auditory evoked response (BAER) is an electrodiagnostic test that is used to determine the ability to hear. The Ballarat Veterinary Practice is proud to offer BAER hearing tests for companion animals.
Deafness at birth (known as congenital deafness) can be inherited in some breeds. Whilst it is likely that there are many different factors and a number of different genes involved, it is generally accepted that there are some breed specific factors at play.
Most responsible breeders of dogs who are at high risk for congenital deafness will test litters of puppies before selling them. Such breeds include Dalmatians, English Setters, English Cocker Spaniels, Australian Cattle Dogs and Jack Russell Terriers.
We test these puppies from seven weeks of age. Because dogs can lose hearing up to 16 weeks of age, retesting is often done, especially before breeding; if there is a questionable reading on the first test; or if the owner notices any problems.
The testing process is performed under sedation. To record a BAER, a multitonal click is delivered to the ear being tested via earphones. Alternatively, the cochlea can be stimulated directly by vibrating the bone of the mastoid region (with a bone stimulator) on the same side as the ear of interest (10).
Each time a stimulus is delivered, the brainwaves are measured and recorded. Based on the results thus produced we can determine your animal's ability to hear.
To book your pet for their BAER Hearing Testing, get in touch with the Ballarat Veterinary Practice team to make an appointment.
Pet Emergency?
If you have an AFTER HOURS EMERGENCY between the hours of 6pm and 8am only please call us at this number.
Companion Animal Emergency Number
(03) 5331 1533